30
03
2015
Veinviewer® Flex is a highly portable vascular access imaging device that can help you find the optimal venipuncture site and avoid potential complications.
With HD imaging and Df² technology, this small VeinViewer model is the brightest and only handheld vein illuminator that provides benefits for all patients during the entire Pre-, During- and Post- vascular access procedure. It is ideal for alternate care facilities, such as surgery and blood/plasma centers, as well as home healthcare and Emergency Medical Services (EMS), Veinviewer Flex is designed for durability and maximum portability. Flex is also suited for hospital departments such as the Emergency Department and NICU where space requirements and speed of assessment demand an ultra-portable and reliable vein finder.
How Does It Work?
With HD imaging and exclusive Df2 (digital full field) technology, Veinviewer is the only vein illuminator that provides benefits for all patients during the entire Pre, During and Post vascular access procedure.
Projected near-infrared light is absorbed by blood and reflected by surrounding tissue. The information is captured, processed and projected digitally in real time directly onto the surface of the skin. It provides a real time accurate image of the patient' s blood pattern.
Veinviewer patented technology, using AVIN™ (Active Vascular Imaging Navigation), allows you to see blood patterns up to 15mm deep and clinically relevant veins up to 10mm. With VeinViewer clinicians can see peripheral veins, bifurcations and valves and assess in real time the refill/flushing of veins. With visualization Pre-, During- and Post-procedure, clinicians can potentially avoid complications from accidental puncture. Improving the total vascular access procedure, not just the stick.
 ASSESS Imaging Suite
Flex comes standard with our Universal imaging mode and is customizable to the full ASSESS™ Imaging Suite through optional upgrades:
| | |
| --- | --- |
| Universal | A benefit for all your patients.  The brightest and most accurate direct-projection, baseline mode available. Ideal for minimizing surface structures such as hair and wrinkles. |
| Fine detail * | Enhances finer structures, ideal for identifying small veins in pediatric or sclerotherapy patients. |
| Inverse * | Allows you to switch colors within the image window. This unique feature assists clinicians in customizing the projected image based on factors such as skin tone, density of hair follicles and room brightness. |
| Resize * | Allows you to choose one of three window sizes, a valuable feature for pediatric patients or when you need to focus on only one vessel. |
| Image Capture * | Allows the user to take and store up to 200 static images of patient vasculature on the device and transfer them to a PC for integration to HIS/RIS/PACS. No patient data is captured; HIPAA compliant. Excellent for documentation of vascular access site pre and post access, for setting expectations with aesthetics patients, and demonstrating outcomes. |
| Maxbright * | Increases our market leading image brightness by another 40% for scenarios where greater than standard ambient lighting. |
*Requires software upgrade. Call 877-SEE-VEIN for information on purchasing software.
Specifications
| | |
| --- | --- |
| Brightness | Minimum of 5 lumens |
| Weight | 1.6 lbs. (0.7 kg) |
| Dimensions | 11.6″ x 4″ x 1.7″ |
| Power source | Fast-swap lithium ion batteries or AC (outlet) |
| Imaging/focal distance | 12″ (30 cm), meets with AST recommendations for safe distance from the sterile field. |
Veinviewer Flex uses no consumables, requires no patient contact and has no heat, laser eye-safety or radiation issues.
 Key specifications for alternate care providers like EMS:
Drop tested for quality and durability protecting your investment according to IEC/UL standard 60601-1.
Veinviewer Flex is rated as an EMC class B device and is suitable for use in all environments; both industrial and domestic.
For a list of EMS testing specifications call 877-SEE-VEIN
Accessories
Veinviewer Flex comes standard with (2) S-Mounts and (2) Clamps so clinicians can mount the device to existing fixtures—allowing for hands-free, Eyes On Patient™ technique. Mount your VeinViewer Flex to tables, counter tops, bed rails and IV poles. There is no need to purchase (or clean) separate equipment.
Every Flex unit operates via AC power or battery so there is no fear of a "down" device. Each Flex comes standard with (2) fast-swap, rechargeable Lithium Ion batteries for up to 4 hours of continuous run time (approximately 2 hours per battery).
Here is a complete list of the VeinViewer Flex base accessory kit & standard items:
Included in every VeinViewer Flex base accessory kit:

(2) Fast-swap rechargeable Lithium Ion Batteries
Up to 2 hours continuous run time per battery
Battery Charger
Can be powered via AC Power or car charger
AC Power Adapter
To be plugged into an outlet, or an ambulance cabin receptacle
International Power Adapters
For use in: North America, EU, UK, China, Australia (Brazil adapter available upon request)
(2) S-Mounts (Stability Mount + C-Clamp and Super Clamp Systems)
S-Mounts allow for hands-free, Eyes On Patient™ technique
(2) Clamps
Clamps allow clinicians to affix S-Mount to: flat surfaces (tables, countertops), or round/square surfaces (bed rails, IV poles)
Storage case
For convenient storage of Flex unit
Wrist strap
For ease-of-use
Veinviewer Flex Connect PC Software
To upgrade your device
USB Cable
For connection to VeinViewer Connect PC software
Veinviewer In-Service Training Video
Guide for using VeinViewer Flex
Optional accessories for VeinViewer Flex include a travel case (to hold the device, batteries and battery charger) and a car charger.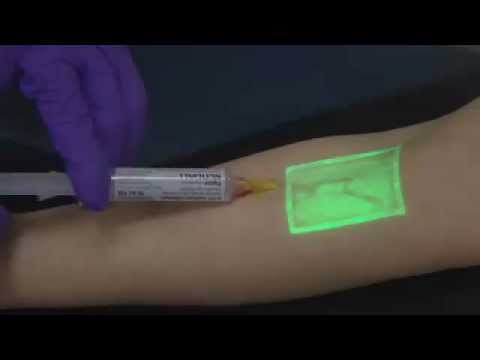 Christiemed.com [en línea] Memphis, TN (USA): christiemed.com, 30 de marzo de 2015 [REF. March of 2015] Available on Internet: https://www.christiemed.com/products/veinviewer-models/veinviewer-flex
Comments :
No Comments »
Categories :
Innovation and the press health articles